Elle slept in on Sunday morning. Hallelujah!
And this leisurely start inspired me to make a special breakfast: one that Elle could assist me in making- Yogurt bowls with fancy granola and chocolate coconut shavings.
She is so eager to help at this age. Normally I am chopping and flames of grease are flying but this was super gentle and safe. She can sprinkle each ingredient.
This slideshow requires JavaScript.
~ i love breakfast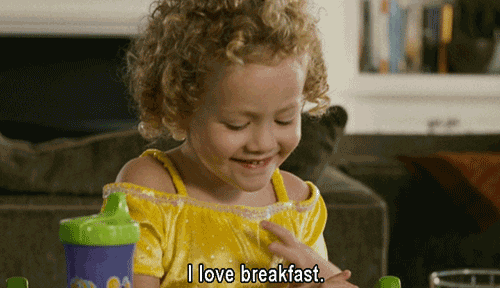 This breakfast scene from Knocked UP is wonderful. Sadie asks her parents where babies come from and they ask her where SHE thinks they come from, and then they say "that's exactly right" 🙂
That's what I am going to say.
Toddler Yogurt Bowl Recipe: 
Vanilla Yogurt
A favorite Granola – we love Early Bird's Granola
Ripe peaches
Chocolate coconut shavings – whole foods has a great one